Ten, Ten The Bible Ten : Obeah in the Bahamas
Dr. Timothy McCartney
Nassau: Timpaul Publishing (1976)
CHAPTER III
BAHAMIAN OBEAH PRACTITIONERS
"Mr. Rolle, this is the gentleman that I told you about. Do what you can for him, he needs your help badly; this a good friend of mine."
This was my first contact with an Obeah man and I made it through a patient of mine who had consulted him because of a problem. She came to see me, in desperation, after all his advice and instruction failed. Mr. Rolle was of Haitian-Bahamian descent; he was short, very dark with a round face and a large flat nose. He spoke with a typical Haitian patois – broken English accent - and asked me to have a seat in a small, but overly furnished living room, where plastic flowers were everywhere. The house was typically Bahamian lower socio-economic class - a wooden house with one little porch leading to the living room, a small dining area, a very small cooking area with the usual kerosene stove, tines of corned beef, Crisco, Carnation cream and Spam on the shelves, a small refrigerator and a sink area. While sitting in the living room, I noticed a peculiar smell. As my nose became accustomed to the small, I realised that it was incense burning - not the "churchy" type incense, but the popular type that young people use, especially when they are smoking grass, and which resembles the long-type "sparkler" "that children light up during Christmas time."
"What is your name?"
"Timothy Johnson," I replied, giving him a fictitious name.
"Why do you want to see me?"
"Well, as Miss Rosa told you, I have been feeling depressed, confused and just down."
"What ya wan me do den?"
"Miss Rosa told me that you helped her and that you could perhaps help me."
"How?"
"I don't know, you will have to find out the best way to help me."
"What you do?"
"What do you mean?"
"You know - what work you do?"
"Well, I work for the Ministry of Health."
"O.K.", replied Mr. Rolle, as he sat back and just stared at me. At that moment, I began to feel a little uncomfortable, but I managed to "keep my cool."
After what was about three minutes, but seemed like hours, he abruptly got up, came towards me and said "Come with me."
We entered the third room of this small house, which was in total darkness. Over the two windows, where little streams of light came through, was a black velvet cloth which extended from the curtain rods to the floor. On one side of the room was a small bed; facing the bed a bureau with the largest, oldest looking book that I have ever seen, open at the middle. Around this book were three large candles, white, black and red, and at the top of the book was a large cross. By the side of the bed there was a hot plate with a handless pot with clear water and
70
---
adjacent to this hot plate was a large white cloth (about 12" x 12"), with three smaller candles of red, white and black in a triangle-like position, and in the middle of the cloth, a pack of cards, a rosary and two other books that, initially, I could not make out what the titles of them were. He motioned me to sit down on the side of the bed and then proceeded to light the candles, and plug in the hot plate. In a short time, the incense was burning, the water in the pot on the hot plate was boiling, and the candles were lit.
"If you need help, I can do three tings for you right now, I can cut the cards, I can read your hands or I can read your shadow."
"Is that all you can do?" I asked.
"Dere is one more ting, but is very dangerous and cost money."
"What is that?"
"Call the Spirit."
"Call the Spirit?"
"Yes, but we go to the grave yard at night, but very dangerous, but is best way to solve problem. ' '
"Mr. Rolle, I think that, for today, we better use one of the methods you have here. By the way, how much will it cost?"
"I don't talk 'bout money."
"Well, I have to know how much you are going to charge me."
"O.K. - for cut cards or read hands, 15 dollars; for read shadow, 20 dollar."
"Mr. Rolle, I have been having a lot of financial problems and I only have ten dollars to my name on me."
"O.K. - I read hands."
Mr. Rolle took up two of the books that were on the white cloth and placed them flat on the ground, opened at the middle, one in front of each foot, with the cover facing towards me. The writing was in French, and, unfortunately, Mr. Rolle didn't realise that I not only knew French, but had lived in France for many years. When I saw the title of these books, I experienced a sigh of relief because I began to suspect that Mr. Rolle was a fraud, even though I was hoping for an extraordinary experience. "How to Become a Millionaire" was the title of these little books and surely Mr. Rolle thought he was well on the way with my contribution of $10, to have my palms read.
"O.K. - put your feet on top of book," said Mr. Rolle.
I complied to his request and when My 11 ½ '' feet covered the books' title, he took my hand in his, knelt down in front of the white cloth and candles, and started to chant in a low voice.
"Hm. ........... power. ........... s'il tu plait, s'il tu plait, hm ............ eieee . . ....... s'il tu plait, s'il tu plait . . . . . . . . . . . ." and he continued in an unintelligible gibberage while, occasionally, pressing my hand that he held in his. When this little "ceremony" was over, he got up, pulled out the plug of the hot plate, dramatically sat down and, with a quick, professional gesture, took my left hand in his, with the palm facing upwards.
"You are married" - true!
71
---
"You are very depressed" - that's what I told him! !
"You were expecting to receive some money from someting that you did - yes, you write something and you suppose to get money for it, but you disappointed 'cause money no come yet." My God, it's true! I was expecting royalties from my first book that I was supposed to receive two days previously and was depending on to help with my Christmas shopping, but never came thorough - maybe this fellow really knows what he is doing!
"You very disappointed 'cause money no come. I see here that you very sensitive man. You like people, people like you, but they take advantage o' you" – very true again—this guy was, so far, right on!
"You have girlfriend trouble too—plenty girlfriend." Now wait a minute! He can't continue to bullshit me! "You feel down because girlfriend call wife and cause trouble." I don't have a telephone at my house nohow! "And girlfriend may be have baby for you."
By this time I had had it! And I knew that this "Obeah Man" probably had something good going for him because he was clever and at least, initially, used what information he had received from me in his living room and was now pushing it back at me while reading my past, present and future, as seen in the palm of my hand.
"You gon be rich and live long.
"Thanks very much, Sir," as I jerked my hand away, "Here is your money, thank you for being so helpful," I lied…
That was not to end this way, however. He got up, led me to this old enormous book on the bureau, and asked me to place the $10 on it. After so doing, he closed the book and with a "Tank you Sir, come again," I emerged into the bright Bahamian sunlight, with mixed emotions about how I was easily defrauded of my hard-earned $10, but consoled myself, as I got into my old Triumph, and dreamed of the year when my book would be published about people like him, and, perhaps, receiving my $10 back tenfold!
The practice of 0beah is forbidden by law in the Bahamas as is in the other Caribbean islands. The Bahamas Penal Code, Volume I, page 992, Chapter 48, Section 254 on the Practice of Obeah, states:
"Whoever practises Obeah, or by any occult means or by any assumption of supernatural power or knowledge intimidates or attempts to intimidate any person, or pretends to discover any lost or stolen thing or the person who stole the same, or to inflict any disease, loss, damage or personal injury upon any person, or to restore any person to health, shall be liable to imprisonment for three months.
Section 255 (1) If it is made to appear upon the oath of any credible witness that there is reasonable cause to suspect that any person is in possession of any article or thing used or intended to be used by him in the practise of Obeah or such other practise as is mentioned in section 254, it shall be lawful for any justice of the peace by warrant to cause any place, whatever belonging to or under the control of the person to be searched, either in the day or in the night, and if any such article or thing is found in any place so searched, to cause it to be seized and brought before him to be received for the purpose of being produced in evidence in any case it may be required."
The reasons for these Bahamian "Obeah Laws" being placed on the Statue Books have not been determined. One speculation could be that all British colonies in the Caribbean were to find
72
---
some way of making African practices "illegal." The Bahamian Obeah Laws appear to be tame and only a "token," compared to the other Caribbean countries that had very large African populations, where the death penalty could be carried out if one was convicted of Obeah practices.
Two modem "Obeah" and "Voodoo" cases were reported in 1971. These two reports will give an idea of how the law deals with it. The first one is from a "Tribune" story of July 9, 1971, with headlines reading "Woman hacked man she thought was a dog."
"VOODOO —and a story of a dog transforming into a man—became an important factor in a grievous harm charge before Freeport magistrate John Cronin on Wednesday afternoon. "For an 'it was the Devil made me do it' explanation for the wild hacking of a man with a cutlass saved a Haitian woman from a possible prison sentence.
"Before the court was Oletha Carnael, of Eight Mile Rock, a 30-year-old housewife who was charged with causing grievous harm to Willie Cooper. She appeared in court having pleaded guilty at an earlier sitting and being remanded for sentence following a psychiatric report.
"Mrs. Carnael, who police had told the court had rushed from her home and chopped Mr. Cooper with the cutlass, gave an 'Alice in Horror land' explanation for her actions.
"She told the court that for three nights on the run she heard noises on the top of her house. On the third day, she went outside after hearing the noise and saw a pigeon, and then a dog and then a man with a cutlass. The dog, she told the court, had a flashlight. She hit the dog with the cutlass and on hitting it, it turned out to be a man.
"Her victim, Mr. Cooper, received a 4-inch metacarpal split through bone, a three-and-a-half inch cut on his head through his tendons.
"He was taken to the Princess Margaret Hospital in Nassau.
Mr. Derek Higgs, for the defendant, said that she heard a noise and was afraid for her three children and went outside with her cutlass and struck the victim who turned from a man to a dog.
Voodoo Man
"She believed that the man she attacked was a voodoo man, said Mr. Higgs."In other parts of the world something of this nature is taken seriously and there is no excuse for this type of behaviour –other than her mental condition," said Mr. Higgs.
"He did not think imprisonment would achieve anything.

"Mr. Higgs pointed out to the court that the victim of the attack did nothing to provoke it,—'it was just a mechanical action, not any threat of harm by the other party,' he said.
"Magistrate John Cronin advised the defendant to see her priest —'there is no such thing as obeah, never was, and never will be'—and fined the defendant $20."
The second one is taken from the Nassau Guardian of December 14, 1971, with headlines reading: "U. S. Women net $40 Fines for Practising Obeah,Theft.":—
"Two American women, one from North Carolina and the other from New York, pleaded
guilty in the Magistrate's court on Monday to unlawfully practising obeah via supernatural
73
---
powers and stealing $100 cash from a Kemp Road resident. The two accused were represented by Attorney Rando1 Fawkes, M.P.
The two middle-aged accused, Nancy Mitchell and Judy Marks were arrested by Detective Superintendent A. Fields on Sunday after a report reached the C.I.D. that someone had been visited by two accused and a quantity of money stolen.
"The two defendants went to the home of Isadora Cooper on Kemp Road," Prosecutor, Inspector Silas Nixon told the court, 'and they told Mrs. Cooper that a curse had been placed on her house.'
"The Prosecutor added that the two women then requested Mrs. Cooper to do certain things. First, an egg was wrapped in a handkerchief along with a $5 note. A Bible was also fetched by Mrs. Cooper, after which the two women then requested a picture of Martin Luther King—saying that the picture represented supernatural forces. The two accused women then knelt down and prayed, joined by Mrs. Cooper.
"After the praying session, one of the accused women cracked the egg that had been wrapped in the handkerchief previously, and told Mrs. Cooper that she saw inside the egg shell, a black head—saying that the black head was the curse and now it had been removed for good.
"Mrs. Cooper was then asked by the two women whether she had any more money inside her house and received an answer in the negative. However, the two women, not believing her, made her swear that she didn't have any more money in her house, which Mrs. Cooper did.
"Later though, when Mrs. Cooper found an amount of $100 missing from her house, she quickly informed the police and gave a description of the two women.
"Prosecutor Nixon concluded his submission to the court stating that when the two women were picked up by Det. Supt. Fields, doll babies and papers pertaining to the practising of obeah and the occult, were found in their pocket books in addition to $200 cash.
"Attorney Fawkes, in a mitigation plea for the two accused, submitted that they were not aware that it was unlawful to practise the occult here and that they both had lost a portion of their money since coming to Nassau a few days ago and were trying to recoup their losses. He added that both women were mothers with a number of children—one of the accused even having a child that was receiving medical treatment for an acute case of diabetes.
"The two were each fined $40 or alternatives of 30 days imprisonment. Also, Chief Magistrate Kermit Ireland ordered that the two women depart Nassau immediately."
Not all individuals, however, once brought to Court are found guilty. An obeah practitioner* was recently acquitted. In the "Tribune" dated September 26, 1975, the headlines read:
"Man cleared of Obeah Charge." The article reported:-
"Several boxes containing lucky powders, incense, bits and pieces of paper with names written upon them and a couple of men's underwear were ordered returned to a 32-year-old Guyanese spiritualist today when a lower court judge found nothing unusual about him having them.
"What Philip Lazaique won't get back however is a fowl's egg with the names of several persons written upon it. That exhibit, seized by officers who arrested the curly-haired Guyanese in July on an obeah practising charge was listed as destroyed, the court heard.
* I know many of this man's 'patients' and he is one of the most 'high-priced' practitioners in the Bahamas.
74
---
"Lazaique, who was represented by attorney Henry Bostwick, was freed after Chief Magistrate Mr. Wilton Hercules found there was a lack of evidence to prove the charge against him.
'"I don't want you to feel that it is because obeah has been worked on me that you are being freed. It is only because of a lack of evidence' he said in dismissing the charge.
"Police detective Charles Moss told the court that he arrested Lazaique on July 28, after he executed a search warrant at the defendant's home.
"He found the defendant at home at the time with several women waiting in his living room and a woman with a baby with him in a bedroom that smelled of incense, Det. Moss said.
"Also found was a jacket with $457.22 and a sign reading 'No credit,' and 'Pay Half Down' and the other items including the egg, he said.
"Det. Moss said that he went to Lazaique's home after a complaint was made by a woman who said she paid him $3 to dress a candle but never received it.
"The woman had gone to Lazaique because she was having problems keeping her husband at home and away from other women, the court was told.
"Det. Moss, who said that he was satisfied that Lazaique was practising obeah for gain after speaking with him, had also produced a ledger which he said contained the names of the defendant's clients.
"The book included the names of several policemen, the Chief Magistrate himself, and also his other two colleagues on the bench, Magistrates George Hannays and Emmanuel Osadebay.
"Questioned by the magistrate after his evidence in chief, Det. Moss was asked whether he had ever visited a Roman Catholic church and seen their candles on the altar or the incense and holy water used in ritual.
"He had, he told the court, and also admitted further having common knowledge that people regularly go to the psychiatrists at the Mental Rehabilitation Centre because they have problems.
"In each case, it was never known why the priests or psychiatrists were never brought to court for practising obeah.
"He found that on the facts submitted in the case, he was not able to conclude that the defendant was practising obeah for gain. He said that Lazaique's statement to police also told the court that he was a spiritualist—'a person who helps people to solve their problems through prayers. '
"The mere possession of these items alone is not an offence, Mr. Hercules said, agreeing with an earlier submission made by Mr. Bostwick who said that there was no case made out against Lazaique. "
From a comparative point of view, in Jamaica, where the Plantation System was very valuable to Britain, and where there was a very high slave population, the white slave owners, outnumbered at least ten to one by their African slaves, used almost every possible method to prevent slave rebellions and to maintain their repressive system of subjugation.
75
---
In 1760, slave owning legislators in Jamaica passed this Act 32 "In order to prevent the many mischiefs that may hereafter arise from the wicked art of negroes, going under the appellation of Obeah men and women, pretending to have communication with the Devil and other evil spirits whereby the weak and superstitious are deluded in a belief of their having full power to exempt them, whilst under their protection, from any evils that might otherwise happen." *
Accordingly, death or transportation was the penalty for any slave who "shall pretend to any supernatural power and be detected in making use of any Blood, Feathers, Parrots Beaks, Dogs' Teeth, Alligators' Teeth, Broken Bottles, Grave Dirt, Rum, Eggshells or any other materials relative to the practise of Obeah or witchcraft, in order to delude and impose on the minds of others." ** This statute did not define Obeah, but some years later a Committee of the Privy Council attempted a definition of Obeah:
"It is very common among these people, who have so small a portion of human endowments, for some to pretend to super-natural powers, and thereby to practise upon the imagination of those, who believe they can be protected by them from the harms of his life. This practise of witchcraft is commonly called Obeah, and is always made an offense punishable with death."
Thus, in Jamaica, from 1760 until the abolition of slavery, the provision against the practise of Obeah became a permanent feature of the slave laws.
"Legislators throughout the Caribbean, and the white population, generally believed that Obeah was a force to be reckoned with, and they saw in the 'Obeah man' the incarnation of all that was evil, including their own destruction." 33
An example of some of the convictions in Jamaica was described by Dr. Madden: 34 In the criminal record book of the Parish of St. Andrews, I find the following Obeah cases:
1773 - Sarah, tried 'for having in her possession cats' teeth, cats' claws, cats' jaws, hair, beads, knotted cords, and other materials relative to the practise of Obeah, to delude and impose on the minds of the negroes' - sentenced to be transported.
1776 - Solomon, 'for having materials in his possession for the practise of Obeah' – sentenced to be transported.
1777 - Tony, 'for practising Obeah, or witchcraft, on a slave named Fortune, by means of which said slave became dangerously ill' —not guilty.
1782 - Neptune, 'for making use of rum, hair, chalk, stones, and other materials relative to the practise of Obeah. or witchcraft' —to be transported.
In spite of the distances between the Caribbean islands, descriptions of the abode of Obeahmen and women are strikingly similar.
A paper delivered in 1789 by Mr. Rheder, in the Report of the Lords of the Committee, etc., as previously mentioned, describes the Obeah man and his home:
"Obeah men are the oldest and most artful negroes; a peculiarity marks them and every negro pays the greatest respect to them; they are perfectly well acquainted with medicinal
32. EDWARDS, Adolph C.. 'The Evolution of the Obeah Laws of Jamaica", Jamaica Law Journal, 11 Duke St.. Kingston, Ja.. April 1974. pg. 19.
* 1 Geo. 2c. 22
** lbid
33. EDWARDS. A. C. Ibid.
34. MADDEN. R. R."A Twelve Months' Residence in the West Indies During the Transition from Slavery to Apprenticeship". London. 1835. Vol. I. Pg. 93.
76
---
herbs, and know poisonous ones, which they often use. To prepossess the stranger in favour of their skill, he is told that they can restore the dead to life; for this purpose he is shown a negro, apparently dead, who, by dint of their art, soon recovers; this is produced by administering the narcotic juice of vegetables. On searching one of the Obeah mens' houses, was found many bags filled with parts of animals, vegetables, and earth, which the negroes who attended, at the sight of, were struck with terror, and begged that they might be christened, which was done, and the
impression was done away."
In 1893, a fairly comprehensive book was written about Obeah in the island of Grenada, by Bell 35 who described the Obeah man: "Obeah was rampant in all the West Indian colonies, and laws and ordinances had to be framed to put it down and combat its baneful influence. There were few of the large estates having African slaves, which had not one or two Obeah men in the number. They were usually the oldest and most crafty of the blacks, those whose hoary heads and somewhat harsh and forbidding aspect, together with some skill in plants of the medicinal and poisonous species, qualify them for successful imposition on the weak and the credulous. In these days, and Obeah man would be hard to distinguish from other blacks and might only be known by wearing his hair long, or some other peculiarity, or else by possessing a good substantial house, built out of the money obtained from his credulous countrymen, in exchange for rubbishing simples or worthless lovespells." Bell goes on to describe an Obeah man's house and the contents that he found: "The dirty little room was littered with the Obeah man's stock in trade. A number of vials containing some sort of unholy liquor were lying ready to be handed over to some foolish negro in exchange for their weight in silver. In every corner were found the implements of his trade, rags, feathers, bones of cats, parrots' beaks, dogs' teeth, broken bottles, grave dirt, rum and egg shells. Examining further, we found under the bed a large conarie or earthen jar containing an immense number of round balls of earth or clay of various dimensions, large and small, whitened on the outside and fearfully and wonderfully compounded. Some seemed to contain rags and were strongly bound round with twine; others were made with skulls of cats, stuck round with human or dogs' teeth and glass beads. There were also a lot of egg shells and numbers of little bags filled with a farrago of rubbish. In a little tin canister I found the most valuable of the sorcerer's stock, namely, seven bones belonging to a rattlesnake's tail - these I have known sell for five dollars each, so highly valued are they as amulets or charms - in the same box was about a yard of rope, no doubt intended to be sold for hangman's cord, which is highly prized by the negroes, the owner of a piece being supposed to be able to defy bad luck."
The original Obeah men and women of the Bahamas, appear to have conformed to their fellow practitioners in the other Caribbean islands. MacLachlan Bell 36 describes them: "Severe penalties have curbed the possessors of the 'powers of darkness' but occasional incidents reveal that the seemingly placid and contented servants in one's home may also be denizens of a kingdom of demons and demoniac powers into which it is well-nigh impossible for a white man to intrude. The Obeah man uses queer nostrums and relies on weird concoctions and effects to gain a livelihood. Old medicine bottles often are filled with simple drugs bought for a penny or two, then are sold, of course, for shillings: Dogs' teeth, sharks' teeth, egg shells, snake bones, skulls of cats and other animals, earth from old graves, miniature coffins and chicken feathers are used to cure almost any disease or avert any possible disaster. Our magician deals in love by supplying philtres, in revenge by putting curses upon enemies and in care by being paid on the barrelhead, so to speak, before he goes to work. Sometimes a female of the species develops quite a business before landing in police hands."
35. BELL, Hesketh J., "Obeah Witchcraft in the West Indies". Sampson Low. Marston & Co., London,. 1893, Pg. 9.
36. BELL, Machachlan H., "Isles of June", New York, 1934.
77
---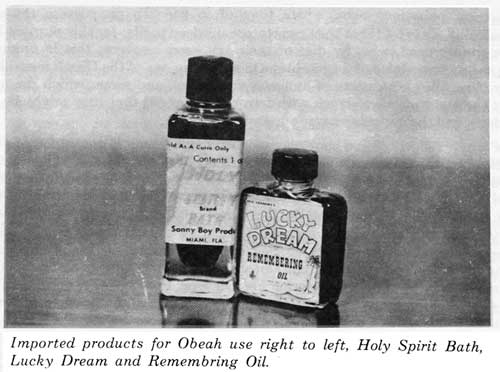 Obeah beliefs and practitioners are found on every island in the Bahamas, but there are some islands, originally .having almost a hundred per cent negro population, where it is more prevalent.
The islands of Cat Island and Andros appear to have strong historical Obeah roots and the most powerful and renowned of the Obeah practitioners were situated on these two islands. Obeah beliefs are also strong in the Exuma Cays, Acklins, Mayaguana, South Eleuthera and Crooked Island. Even these islands have its' Obeah centres. In Cat Island, it is the Bight, on San Salvador, it's Breezy Hill, on Andros it's North Andros and in New Providence, it's Fox Hill.
In order to gain first hand knowledge, I have visited, talked with and researched eighteen Obeah practitioners. Most of the older Bahamian practitioners are Bahamian-born, but there is an increasing number of Haitians, Haitian-Bahamians, Jamaicans and a few other nationalities who have quite a lucrative practice.
There appears to be a remarkable belief in Obeah among all West Indian negroes: The magical practises of a neighbouring or distant island are always more powerful than one's own. Hence, Bahamians believe that Haitian voodoo is more powerful than Bahamian Obeah. The very high influx of Haitian immigrants to the Bahamas, with their different language and reputation for the supernatural, have added to the dimensions and superstitions of the Bahamian. A common Bahamian rumour is that a few prominent Bahamians who have died, can be seen roaming the mountains of Haiti as zombies! Anytime there is an election, it is rumoured that many politicians pay a visit to Haiti to ensure success at the polls.
Peoples of the Windward and Leeward Islands believe the French islands of Martinique or Guadaloupe have greater powers than they have. Then too, politicians from these islands are known believers. The belief of West Indian leaders in Obeah and certain rituals before elections is no secret.
78
---
One Rosicrucian + leader engages an Obeah man from Guyana and they repair to the mountains for this politician to get his blood bath. A friend of mine, who personally witnessed such a ceremony, described it to me: "The Obeah man was dressed in a long white robe with his hair tied in a turban. A bath was prepared with the blood of a fresh cock, (never the female fowl) just killed and drained. With incantations and prayers, the leader was immersed into the blood and 'refreshed.' He won the election hands down!"
Another former Prime Minister of St. Vincent always utilised a bush bath for his success. His Obeah man was an East Indian from Trinidad.
Many Bahamian Obeah men and women were apprenticed to older wise men or women, and some learned their art from their parents, or they were "born" with their special gifts and these "gifts" were recognised at an early age.
Some received their "power" during adulthood with a "vision" or, while "in a trance," were instructed into their art.
The more professional of these Obeah practitioners have studied in Haiti, Jamaica and in Harlem, New York, U.S.A. The following are my own personal experiences of interviews with eighteen practitioners:
7 in New Providence (one of these of Haitian-Bahamian descent)
2 from Cat Island
3 from Andros
2 from Haiti
1 from Jamaica
1 in Freeport, Grand Bahama
1 from Eleuthera
1 from Long Island
The claims of Obeah practitioners are legend, and people that have profited from these ministrations often attest to the 'powers' of these people. Two Obeah men appear to have had a great reputation; unfortunately, they are both deceased, and I never got the pleasure of meeting them.
Zaccharias Adderley had the reputation of being a very powerful Obeah man. He was affectionately known as "Pa Beah", * and was the "king" of Obeah in New Providence. He lived in Fox Hill, was a farmer and started practising Obeah in his spare time as a hobby—a hobby which was much more lucrative than farming the land!
He once told someone "If people are stupid to gimme money I ain't too stupid not to take it."
According to legend, Pa Beah could fix his field so that if anyone went to steal his cassava, then they wouldn't be able to find their way out of the field until he arrived to catch them. One day, someone foolishly stole his groceries and a friend said to him: "My Lord, how yer ginna manage this week fer food?"
"Don't worry yer head 'bout me, yer betta worry 'bout the fella who take ma food. He'll soon bring ma food back or else!"
Pa Beah then took a doll, measured it against a candle and cut the candle to the length of the doll and stuck pins into the doll and candle, the same distance apart in each. All the time he was
* 'Beah", naturally being a derivative of Obeah.
+ Member of an occult order said to have been founded in 1484 by Christian Rosenkreuz
79
---
doing this, he was calling the name of known pilferers in the area. He then, dramatically, lit the candle and said: "When the candle burns down to the first pin, the tief will have a bad, bad, pain." That evening, Pa Beah's groceries were left on his doorstep!
"Uncle Boy" was the reputed "King'' of Obeah from Cat Island. The nephew of "Uncle Boy" lives in Nassau and told me two stories that I have authenticated from talking to Cat Islanders, who knew Uncle Boy and, also, a religious leader who confirmed these stories.
Uncle Boy had a coconut farm which was the pride of Cat Island. He worked very hard, was a shy retiring man, and lived in the middle of his farm. He had few visitors and was a man who kept very few friends. He was well-read, and had quite a library—some of these books (many on the occult) are, at present, the possession of Uncle Boy's nephew. It appears that some one was constantly stealing Uncle Boy's prime coconuts. Fed up, he posted the following notice:
"To whom it may be concerned: Whoever been in my white land and poached my coconuts for the purpose of shipping, come to see me immediately. You could be carried down and would be carried down if you don't come and see me. In the future, be more careful!"
No one turned up or replied to Uncle Boy's notice. A short time afterwards, a man in the village started to swell up. No amount of medication or treatment could help him. He soon died, as a result of this "strange" illness. It was found out afterwards that it was this man who stole Uncle Boy's coconuts.
Uncle Boy also raised chickens and one of his employees used to give eggs, without asking Uncle Boy, to a friend of his and then, afterwards, they would share them. The employee soon became ill, and his friend, one night, stole some of Uncle Boy's chickens. He killed one of them and gave it to his friend for nourishment.
The following day, the sick friend ran out from his home, hysterical, and crowing like a chicken. He climbed a tree and lived in this tree, stooped up like a chicken, and in spite of the many efforts to take him down and carry him back to his home, he ran back to the tree, climbed it and stayed there. During sunshine, rain or high winds, this man never came down from the tree. Every morning he would crow like a chicken and never spoke again, except for cackling like a chicken. He had to be fed in his tree home, and his eating movements were 'chicken-like'. He eventually died in his tree home!
Out of the eighteen Obeah practitioners interviewed, two of these greatly impressed me and appear to have extra sensory perception. One practitioner had some kind of "power" and practiced mostly "Black Magic" and relied heavily on the 6th and 7th Books of Moses and the Black Heart Book. This gentleman truly frightened me and I went through a fit of depression after trying to probe him. Not being a depressive, and beginning to delve very deeply into my subject, I thought it best to discontinue my investigations of this man.
With the exception of these two practitioners, the rest were, to my mind, frauds, very clever "con" men and women and doing a helluva business.
I have become very friendly with one Obeah practitioner, and use her as my "consultant" in occult psychology, when I deal with Obeah problems. I have found her to be honest, nonmercenary, and utilising, primarily, bush medicine and white magic.
She is now 65 years old and was born in Long Island. Her father was born in Cat Island and a well-known herbalist. She was taught by him, at an early age, to distinguish different "bushes
80
---
and barks" and the effects of these on the human body and mind. Her mother was born on Long Island, but left her and her father in Cat Island as she returned to her home. She continued to tell her story:
"I, initially, learned everything from my father, who used to bring different bushes and boil it and make up medicines for people. I stayed with my father, and learned about bushes and helped him to find them and to prepare them. At an early age, I used to have visions, but I thought that they were bad dreams. Small men used to come to me and give me instructions. When I told my father about it he used to tell me not to worry about it. My father was a very nice man, he never drank or got into fights, but he used to like women. One night, when I was nine years old, I had a 'vision' and saw my father in a big fight. I didn't do much about this because my father was a peaceful man and never fought. In my vision, a little man came to me and asked me to tell my father to stay home and not venture out the next day. In the morning, when I got up, I told my father that he must not go out because the little man in my vision said that he shouldn't. My father just smiled and said it was just another dream. At two o'clock that afternoon, shortly after I returned home from school, I heard a commotion outside my house. When I looked out, I saw some men carrying my father. When they got to the house, they told me that my father was in a big fight and got slightly injured. From that time onward, my father helped me to develop and understand my 'powers'. He used to call me a 'witch'."
She came to Nassau at fifteen and became a nurses' aide. One day, she met a Jamaican lady who exclaimed: "Praise God, I've found you!" This lady explained that she was looking for someone like her for a long time who had "power". She soon moved in with this lady and watched her and practised with her. She then left Nassau with the Jamaican lady and went to Jamaica for three months, where she learned how to "call the dead". She studied with this lady and then with "Lord Kitchner" of Jamaica. She then visited Haiti for three weeks, then returned to the Bahamas where she has been practising Obeah for 38 years. She has also been to New York (Harlem) where she perfected her "power".
This lady lives in an unpretentious house in the heart of the "over-the-hill" district in New Providence. There is a little shop in front of her house that actually adjoins her home, and this is stocked with groceries, primarily the basic Bahamian needs of rice, grits, flour, assorted canned goods, jars of Mortimer brand candies, bubble gum, chicklets and the proverbial kerosene oil dispenser. There is also a small refrigerator with cold sodas and malt tonic and other bottles of her own "tonics" and "medicine". Behind her counter she showed me about three rows of "sets", i.e., photographs, articles of clothing and other memorabilia belonging to her clients or her clients 'relations, enemies, etc. of whom the fix- is to be directed. She also took me into the back room of this shop. In this room were all kinds of local bushes, barks and bottles filled with liquid and barks and bushes of all colours and sizes.
"Taste this," as she got a spoon and poured a reddish-looking liquid into it.
"O.K.", I quickly replied, with mixed emotions. Somehow I trusted this lady and knew that she wouldn't do anything to hurt me.
"Ahm - what's this? It tastes a bit like a tonic that I used to drink some time ago called 'Becol'."
"It's my own mixture of crushed barks and boiled bushes, made especially for sexual potency."
* Being fixed is explained more fully in another section of this book.
81
---
"It tastes good, but I don't think that I need this just yet—in fact, my wife may come to you to find out whether you have anything to 'cut my courage'.''*
"Ha, Ha," my friend replied, "You got Eleutheran blood in you and I know, from experience, 'bout Eleutheran men! "
"What's that thing in that small bottle over there?" I asked. There were about ten brown short-stemmed bottles in a comer with a label on them of "poison".
"Oh! That's not to drink--it's for a room or a house when it's hagged. What ya do is sprinkle lil bit o' this in the four corners of the room."
"And what's this thing here?" I continued to enquire.
"Oh--dat's candle wax—dat's what I does do my sets wid."
"What do you mean? Could you demonstrate for me?"
The lady then took me to her room in the house where there were literally hundreds of photographs, graveyard earth, locks, keys, articles of clothing (handkerchiefs, panties, men's shorts, stockings, socks, undershirts) and, on a small table, neatly labeled pieces of hair.
"My Lord!" I explained. "You sure have quite a practice. Are all these things here your current clients? "
"Oh yes! I am well known and I's get results—dat's what counts, results!"
"O.K—show me how to 'set a fix'."
"All right. You see this wax here—it's a very important part of 'setting a fix'. Lemme show ya something!" She took a small square package that was covered with aluminum foil with an elastic band around it. She carefully opened it and there was a small piece of card board in the shape of a square. On this card board was the picture of a man; and on top of the picture was a strip of thin white candle wax, in a peculiar shape (see illustration).
"This man used to run around a lot with sweethearts and used to be very cruel to his wife. In desperation, she went to a Haitian Obeah man who 'set a fix' for her (see Fig.II). The lady was instructed to put this 'set' under his pillow for three nights, as he slept (if he stayed home that often!), and this was supposed to stop him from 'running around'. Unfortunately, the marriage deteriorated and the man continued to beat his wife and stay out with his sweethearts. She finally came to see me and I asked her to bring me the set that the Haitian had fixed. Well, when I saw this, I told her no wonder he stay away. You see, he set it to cross her and he had to continue going out. (She demonstrated how the 'set' was originally fixed as in Fig. II). I told her to leave it with me and then I reset it like this. (See Fig. III). Shortly afterwards, the woman came to see me, very excited. 'Ma husband home!' From that time up to the present, this man has completely changed his Life and he is now a devoted husband."
My Obeah friend explained that the original "set" that the Haitian did was "crossing-up" the wife, as demonstrated by his "set". Her "set" had them "together", as demonstrated by her
* A local Bahamian term meaning to slow down or keep under check sexual activity— like using "salt peter" for example.
82
---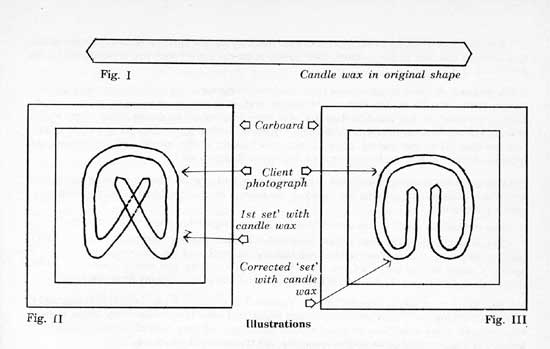 "set". She also stated that she had to read certain psalms from the Bible and pray over the "set" 'for it to be completely effective. *
The second time that I met with my "consultant" in occultic psychology, she explained, more fully, her art. She attributed her powers to God and utilised, exclusively, white magic. She also, emphatically, stated that she never utilised her "gift" (power) to harm anybody. She would remove the harm from a client if he or she had an "evil-fix," but although she knew how to harm (or "carry-down", in Obeah terminology) someone, she never did it.
"How do you really carry out these amazing feats - I mean, how do you explain all this?" I
continued to prod.
"Well, you see, I have control of the spirits. There are good spirits and evil spirits, just like there is a God and the Devil, and a Heaven and a Hell. Many people have, in fact I believe that all of us have, some kind of gift, but I have been especially blessed by God, who gives me the strength to control evil and use his good spirits for good. With the control, of the spirits, I also use bush medicine for healing the sick. You see, Dr. McCartney, you're a good doctor and you help my daughter, but you aint got head for dis kind o' ting, ha, ha. Right now, there are good and bad spirits right here. You'se scare easily?" She asked me.
NO - why?"
She got up, fetched a plain mirror, and then a little container that resembled a Mennen spray (squeezelike) type plastic deodorant bottle.
*I , subsequently, got the name of this lady, interviewed her and many people that knew the family. and my Obeah friend's story was authenticated. Many of their friends noticed a 'sudden change' in the man, but they didn't know that the wife had consulted my friend, the Obeah woman!
83
---
"Now, don't be afraid, notting gon harm you. See here (as she sprayed some liquid out of the container on the face of the mirror), look carefully at the mirror and you'll see de spirit dat protecting you!"
1 looked and all I saw. initially, was this liquid on the mirror—by God! There was a definite human form, forming on the face of the mirror and, in a matter of seconds, there was absolutely no doubt in my mind (unless my eyes were playing tricks on me!) that there was a definite human form on the mirror! She held my hand, looked up to the ceiling and said, in a soft whisper, "You can vanish now!" I was still looking at the mirror and as soon as she completed those words, the human form on the mirror disappeared!!
I examined the mirror, in disbelief. I turned it over and over and found nothing unusual. I took the container, and sprayed the liquid on the mirror, as my friend had done, and waited—nothing happened.
"How did you do this!? Is this a trick—do you know magic? Are you trying to fool me?"
"Doctor McCartney, youse an honest man and if I didn't like you and trust you I wouldn't give you the time of day. You tell me you looking for truth and you investigating Obeah. I open my house to you and I let you see, examine, do anything you want! Honest to Jesus, that was a Spirit. If you think I trying to fool you, den I ain' gon' waste my time wid you."
"No, I don't want you to take it this way! You see, I'm writing a book about this thing, and if I write something like this, a psychologist and scientist, I have to examine every angle. Believe me, I've seen stage magicians do many wonderful things, but they were all tricks—sleight of hand - at least most of them, so I'm enquiring, not trying to put you down.''
"O.K. —come closer to me. Now look into my eyes. Yes, you see anything different 'bout ma
eyes."'
"No, not really, your eyes look all right to me—wait! There is a little greyish spot at the bottom of each eye, why is this? You have trouble with your eyes?"
"Doctor McCartney, I'm going to put myself into a trance and 1 completely block out myself and as I do this, I go blind for a little while."
My friend held on to my hands, threw her head back and whispered, "Oh, Jesus". She trembled slightly, but soon settled down. In the meantime, after glancing around for a split second, I looked into her even again. and the two small spots began to grow and grow and grow until her whole two eyeballs were completely covered by this grey matter. No more pupils could be seen and 1 have never seen such a hideous sight in my life. Lord, what have I gotten myself into today, I thought, am I really seeing what I'm seeing or is this just some dream or, perhaps, she got me fixed to see these things!
Her body convulsed once or twice, then relaxed and then she slowly released my hands and slumped back into her chair. She stayed immobile for about ten minutes. There was an uncanny silence in that little room and, as I looked around at all the objects of her trade, I had feelings of cynicism, belief, a shaking of my senses, my faith! –Was I really experiencing this—was it real—had she hypnotised me? I have been hypnotised before, but it was not like this. No, this was real - my mind wasn't playing any tricks on me, I actually saw…
"Doctor, I'm very tired—you have to leave now—come here." As she motioned to me, she took up a small bottle (about four ounces) with a clear liquid in it and, at the bottom, mercury
84
---
(quick silver). She unscrewed the cork, tipped the bottle to her finger and, very suddenly, placed the finger with the liquid at the edge of my two nose holes.
"I've anointed you—go—no harm will come to you. God bless you, Doctor."
Since these two encounters, I have seen my friend infrequently, but talk to her often over the telephone, to discuss problems, profit from mutual advice and to discuss Obeah. Although she is known as an Obeah woman, she claims that it is not really Obeah, but the power that God gives her but she doesn't object to being called an Obeah woman. She relies, very heavily, on the Bible, and claims that the 109, 110 and 111 Psalms are the most powerful in the Bible.
She also warned me not to "fool around" with "calling the Spirit!"
"Even though I can do it," she explained, "Dats very dangerous, and it must be done with someone that is clean and who knows what they're doing, 'cause it can ruin you for life. Don' mess wid dat at all—dat's de devil and evil forces—de debil is powerful too—don' mess wid dat!"
I have taken her advice! Although this ritual* has been described to me, in detail, by another practitioner, I did not utilise this as part of my research, and have no intention to do so!
To summarise, then, Bahamian practitioners have been:
(a) Born with special powers.
(b) Received, at an early age, certain powers, usually revealed to them by a vision or dream.
(c) Power recognised in an individual by a seasoned practitioner, who encourages, or teaches, the individual the "art" of Obeah.
(d) Heritage: that is, Obeah powers peculiar to a family and passed from one to another.
(e) Conversion, (as in white magic) where powers suddenly are bestowed by changing one's life style.
( f ) Whereas only Africans, or those people of African descent, practised Obeah, other ethnic groups in the Bahamas (Indian, whites) now practise Obeah.
* This ritual is described in Chapter IV.
85
---